Klasse Neugebauer, UdK-Berlin
Eröffnung, 8. Juli 2016
9.- 17. Juli 2016
oqbo, raum für Bild wort und ton
Brunnenstraße 63, 13355 Berlin

http://www.oqbo.de
Am Freitag, den 8. Juli um 20 Uhr eröffnen die Kunststudierenden der Klasse Neugebauer ihre begehbare Installation "klaustrophilie" in der Galerie oqbo. Die Besucher*innen sind eingeladen, ein halbtransparentes Labyrinth und eine audiovisuelle Rauminstallation mit allen Sinnen zu erkunden. Die individuelle Auseinandersetzung der Studierenden mit dem thematischen Aspekt der Ausstellung kann in Form einer handgefertigten Edition aus Einzelarbeiten erworben werden.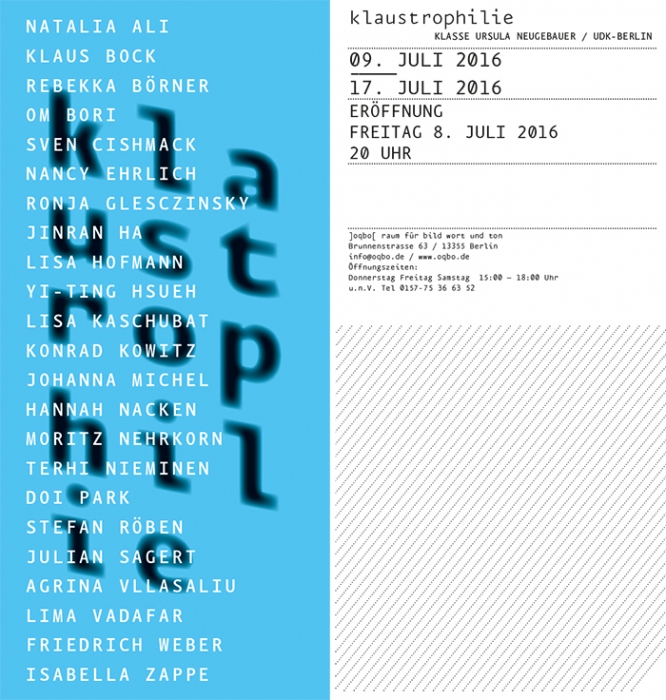 Edition:
Klaustrophilie, 2016
Edition – Class of Ursula Neugebauer
Box made of black Kapa line with a
transparent lid 6 x 25 x 25 cm
22 foils of 24 x 24 cm
Edition of 10 Sales
price: € 500
Description:
The box contains 22 transparent foils; each foil has been treated in a different way by a different artist. The lid of the box doubles as a frame. When you open the box you can insert one of the foils, which will then appear "translucent".
Artists involved:
Natalia Ali, 1986 in Damaskus, Syria St. Petersburg, 2015
Klaus Bock, 1981 in Linz, Austria C'est ça, 2016
Rebekka Börner, 1990 in Johnsbach dissolve, 2016
Om Bori, 1987 in Berlin unerschöpich/inexhaustible, 2016
Ronja Lara Glesczinsky, 1990 in Berlin Adé, 2014
JinRan Ha, 1986 in Seoul, Korea ensemble (no.1-4), 2015
Lisa Hoffmann, 1992 in Berlin Kleine Zeichen von meiner Großmutters Hand, 2016
Yiting Hsueh, 1991 in Taipei, Taiwan Atmen, 2016
Lisa Kaschubat, 1993 in Berlin Topos 1-5, 2016
Konrad Kowitz, 1990 in Lübz Konzentration, 2016
Johanna Michel, 1989 in Düsseldorf opakes, 2016
Hannah Nacken, 1987 in Berlin untitled, 2013
Moritz Nehrkorn, 1981 in Göttingen negativ(negativ), 2016
Ursula Neugebauer, 1960 in Hamm Coma Berenices, 2009
Terhi Niemien, 1990 in Rovaniemi, Finland Night Train Arriving in the Mine, 2016
Doi Park, 1994 in Busan, Korea Landscape, 2014
Stefan Röben, 1988 in Frankfurt am Main untitled, 2016
Julian Sagert, 1991 in Berlin Lake Faguibine (1987), 2016
Lima Vafadar, 1985 in Teheran, Iran Mental Picture, 2016
Agrina Vllasaliu, 1990 in Prishtina, Kosovo Selbstporträts, 2016
Friedrich Weber, 1994 in Berlin untitled, 2015
Isabella Zappe, 1993 in Berlin glitch, 2014